Winter Storm Information and Reminders
Reminder:
To stay informed please sign up for e-bulletins and Nixle alerts. Links are located at the bottom of this page.
Reminder:
Township Property Owners are Responsible for Snow Removal on Sidewalks within 24 hours after the cease of snowfall per Municipal Code 152-18: https://ecode360.com/8061955
Reminder:
Township Property Owners Shall not place snow or ice on Township Streets per Municipal Code 152-19: https://ecode360.com/8061956
When clearing your driveway:
If you shovel the very end of your driveway prior to snowplowing being completed, place the snow to the right of your driveway (with your back facing your house). By placing it in this area, this lessens the amount of snow plowed back onto the driveway. See illustration below.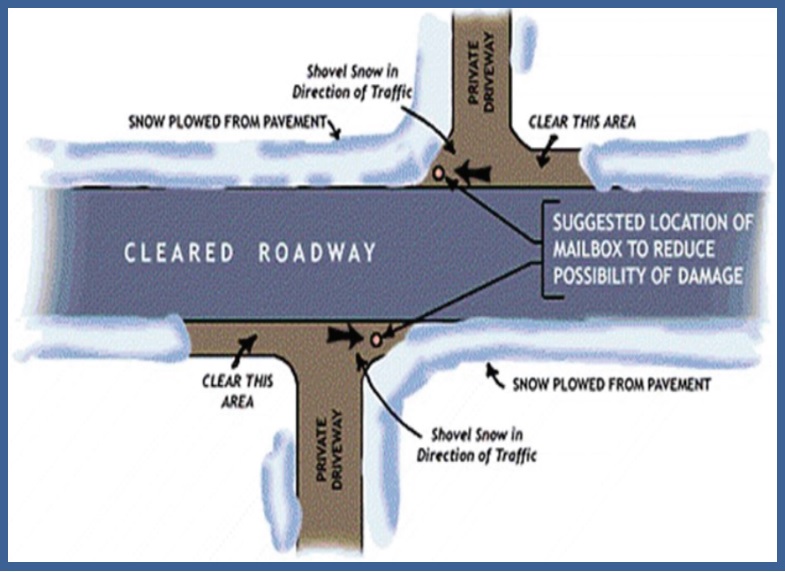 Township residents who live on Cul-de-sacs; these areas are particularly difficult to plow. Department of Public Works places snow in the most practicable areas. Although plow operators do their best to minimize inconveniences to residents, sometimes plows cover previously cleaned driveways and sidewalks. Unfortunately, this is unavoidable. Please understand proper plowing operations for roadways cannot prevent the redeposit of snow in driveways.
WHENEVER POSSIBLE:
To help our volunteer fire companies if possible please clear around fire hydrants to allow firefighters to save lives.
Please remove your vehicle from the street when snow is forecasted.
Please avoid driving on during or immediately after a heavy snowstorm. The less traffic plow operators encounter, the more efficiently the roads can be cleared.
Please place your garbage/recycling cans on your property and Not on/in street. Objects such as portable basketball hoops and hockey nets, etc. should be removed from the street to avoid being damaged by snow plows.
CHILD SAFETY
Please help us to protect the safety of your children by not allowing them to play unsupervised when snowplow operations are expected and until they are completed.